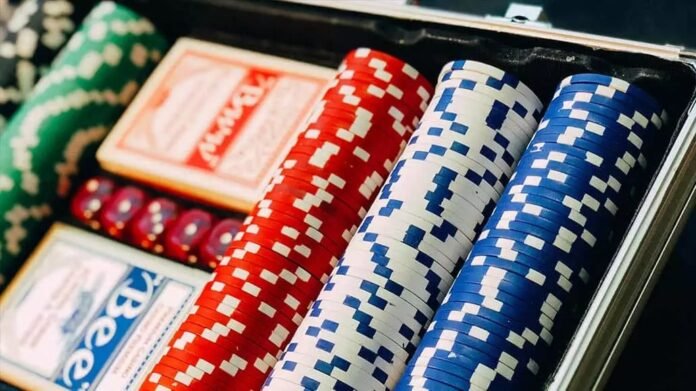 Poker chip sets come in 3 major types of materials; ABS, composite, and clay. There are also many sizes of sets from 100 to 1000 chips, along with many variations in designs. If you are contemplating purchasing your own set of poker chips and are confused about which ones would be best for you, then you will want to read on. We will explore each of the types and the benefits and drawbacks of each.
I will start off by excluding the department store cheap plastic poker chips. I assume you already are familiar with these and are looking for something a bit more professional feeling. They are made of a thin plastic with little grooves around the edges in an attempt to make them stick together in a stack, usually come in red, white, and blue, and don't resemble anything you have ever seen in a casino.
Real poker chip sets come with chips that are much thicker than those cheap ones, and are also much heavier. They have many different poker-themed designs with casino sounding names like 4-aces, Double Royal Flush, and High Roller. The graphics are very intricate and interesting depicting images of everything from decks of cards to dice. Some have no graphics at all but just impressed designs and different colors printed on the edges appropriately called "edge spots".
Most of the poker chip sets also have additional accessories like dice and dealer buttons, and come in either aluminum or hardwood cases. The aluminum cases in the past had some problems because of the weight of the chips. At around 20 pounds, the stress was too much for them and they had problems with breaking hinges and handles. Most of the cases available today are reinforced and much improved over those early ones.
So now let's talk about the chips that come in these poker chipsets. Here are the 3 type materials that makeup the chips and the advantages and disadvantages of each, so you can make an informed decision before you buy.
ABS Chips: A compressed hard plastic that can take a lot of abuse. These chipsets are the least expensive but often the most colorful. The hard plastic allows for them to be printed on much easier than clay and they can be hot stamped for customization, or have the graphic images printed directly on the chip. The main advantage of this is there are no labels needed on the chip to put a graphic image on it that may peel or scratch over time and use. To give them the heavier weight that poker players prefer, a metal insert is molded into the chip. Most, if not all of these chips are manufactured in China and weigh about 11.5 grams.
Composite Chips: A mixture of clay and plastic to reduce some of the disadvantages of ABS chips. The actual clay content is not divulged by the manufacturers. These are generally more plastic than clay but are still a step up and a bit more costly than ABS. They usually have the graphic images printed on a label that is affixed to each chip. They also have a metal insert to give them their heavier weight than before. Generally, they are 11.5 grams in weight and are made in China.
Clay Poker Chips: This generally applies to poker chip sets with a higher clay content to plastic ratio. There really is no such thing as a pure clay chip since it would be very brittle. They also have a metal insert and labeled and non-labeled designs on the edges. These chips are usually heavier in the range of 13.5 and 14 grams and are made usually in China.
Real Clay Poker Chips: These go by many names depending on the website such as "All Clay" and "Pure Clay" but are basically the highest clay content of all. The chips have a rougher texture giving them a "sticky" feel and stack exceptionally well. Probably a better designation for these would be "Casino Grade" since they feel and sound just like chips used in the casinos. In fact, some of the US manufacturers do make chips for the casinos. They are very expensive, some at over $1 per chip. The weight of these chips is much lower and consistent with real casino poker chips at around 7 – 10 grams.
I hope this has helped you sort out the maze of Poker Chips Set and designs, and helped determine what types you want to look into. There really is nothing like playing with a real set of poker chips.